This post contains compensated links. Please read our disclaimer for more info.
Bendigo has a great range of accommodation options. Bendigo accommodation varies from hotel/motel accommodation to beautifully restored Airbnb cottages. When choosing accommodation in Bendigo you will need to be mindful of the location. Do you have a car or are you relying on public transport? If you don't have a car, staying in central Bendigo is the best choice. With a car you have more options as there are great accommodation offerings in the Bendigo suburbs.
Our top 5 Selections for Accommodation in Bendigo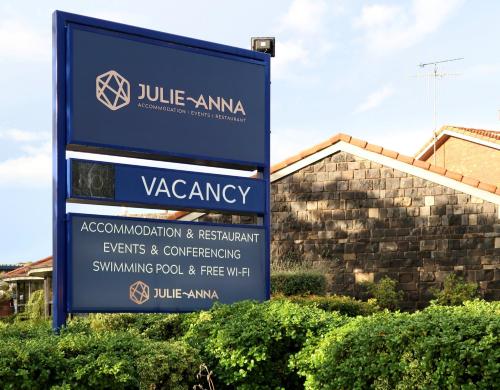 Mid-range budget
Located near Lake Weeroona, a short walk to central Bendigo
Amazing hospitality and comfortable rooms
Luxury accommodation
Located in Maiden Gully, a short drive from Bendigo
Boutique accommodation surrounded by amazing vineyard and bush views
Mid-range budget
Located in Strathdale, a short drive from the city centre
Comfortable rooms and easy access to the onsite restaurant and facilities
Includes large apartments suitable for families and groups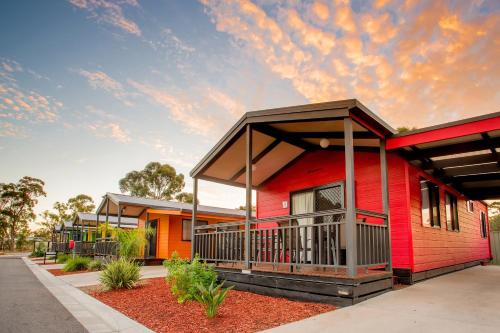 Mid-range budget
Located a 10 minute drive from the city centre
This caravan park has a huge range of accommodation options. Onsite caravan/tent spots and cabins plus a pool and onsite indoor playcentre for the kids
Mid-range budget
Located near the Sacred Heart Cathedral, a short walk from the city centre
Quiet and comfortable rooms, the location is a great bonus
Bendigo Accommodation for Couples
Spending a weekend in Bendigo enjoying the food and art scene is a great way to spend time with your loved one. A huge range of accommodation in Bendigo for couples, Byronsvale that we listed above is a great choice and below is a few more options to choose from.
Located in the middle of Bendigo, the Shamrock Hotel resides in the historic Victorian building, built in 1854. While the rooms aren't ultra modern, the character of the building oozes so much charm that it is a must visit in Bendigo.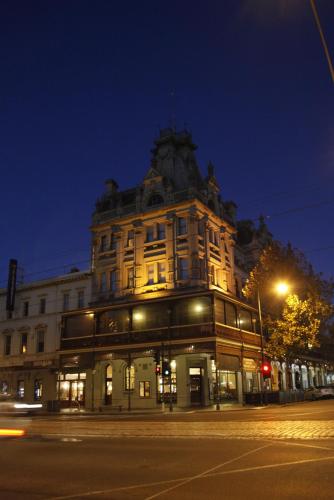 A self contained one bedroom apartment, the location is fantastic close to the CBD. Modern and comfortable, the apartment is a great choice to explore the center of Bendigo.
Balgownie Estate Bendigo features luxury accommodation and a historic cellar door. It has a great range of accommodation for different budgets and Balgownie Estate glamping is one of the best choices! Located in Maiden Gully, the Balgownie Estate is a 15 minute drive form central Bendigo.
The Mercure Bendigo is a modern hotel located a short walk from the Chinese museum. It features original Mark Schaller artwork plus the onsite Pantry cafe that does a great latte!
Bendigo Accommodation for Groups
Staying in apartments or houses is a great way to save money for family or friend groups. Bendigo has a great selection of different accommodation including many kid friendly options.
There are 2 Quest Bendigo apartments, one is located closer to town and the other in Golden Square. They have 2 and 3 bedroom apartments with lots of space and a pool on site.
QUEST BENDIGO
QUEST BENDIGO CENTRAL
A self contained house located close to Bendigo central near the cathedral, it features 2 bedrooms plus the kids can sleep on the sofa bed in the lounge room. Abbey View gets fantastic reviews and the hospitality of the owners is great.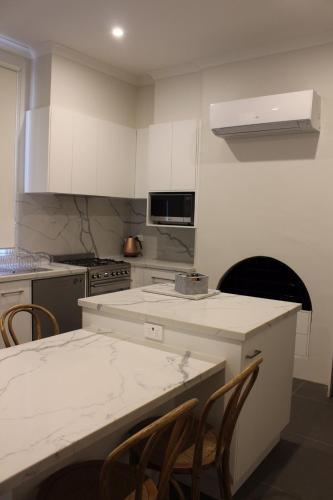 3 bedroom house located near Lake Weeroona, this is a great spot for your group to spread out and enjoy home comforts like a pool table and air conditioning.
Budget Bendigo Accommodation
These accommodation options in Bendigo won't break they bank! Clean and functional, Bendigo has a great range of lower cost options.
Located close to the CBD, Bendigo Backpackers has clean, budget friendly accommodation. It has a range of rooms including family, double, single and dorms. Overall it can sleep 26 people and could be a great option if you have a large group to sleep.
A fantastic location a stones throw from the middle of town, Bendigo Oval Motel has a 70's vibe with 2020 comforts. A great choice to have more money to spend on the cities amazing restaurants.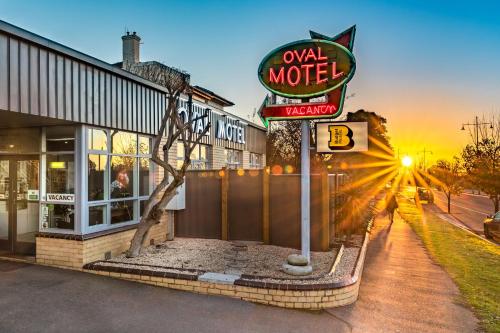 Note: This post contains affiliate links. If you use these links to make your bookings I will make a small commission at no extra cost to you. This helps me to provide even more information about traveling around Bendigo.
Pin It